The Fagor 8055 is a powerful CNC designed to meet the most demanding Machine-Tool applications: lathes and turning centers, milling machines, machining centers and general purpose applications. Thanks to is great calculating power and processing speed, they offer high-end features with the maximum programming versatility.

Easy to program thanks to its profile editor and its
interactive editor. Easy to install thanks to its PLC Logic Analyzer.
Conversational Models
- For mills
The conversational models of the Fagor 8055 (MC/TC) series CNCs offer all the standard features of that CNC plus an interactive graphic interface, thanks to which, no programming knowledge is required to operate them.

- Machining simulation with graphics in 3D, solid and for tool path.
- Linear, circular and helical interpolation of up to 7 axes simultaneously.
- Intelligent profile editor.


- For lathes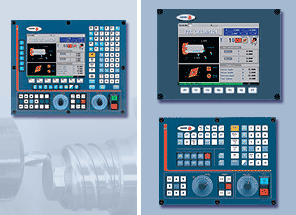 Customizable Models
As a result of our continuous evolution, a new conversational CNC family has come to life: The CNC FAGOR 8055 TCO/MCO series whose PC-based tools allow customizing cycles and application characteristics to OEM's will.
These cycles, once integrated into the CNC, may be used like any of the other conversational models.



- Customizable keyboard TCO/MCO.
- PCustomizable screen TCO/MCO.
- Simple high level language to define the configuration files that set the characteristics of each screen.
- Overlaying of windows activated from the PLC.
Integrated Models
Within the FAGOR 8055 CNC family, Fagor Automation presents its 8055-i CNC. Thanks to its integrated CPU and small size, it may be fitted practically anywhere on the machine.

This powerful CNC comes in different models:

- With ISO programming
- Conversational models
- Customizable models
Educational Model
| | |
| --- | --- |
| | The FAGOR educational 8055 CNC is especially designed for training centers. It may be used for editing and simulating part-programs and send them to a CNC machine through DNC or Ethernet to be machined later on. The same CPU may work as a mill model or a lathe model and it offers all the software options of the 8055 CNC family. |